Former President, Olusegun Obasanjo has stated that he endorsed the Labour Party presidential candidate, Peter Obi over the All Progressive Congress candidate, Asiwaju Bola Tinubu because it's his 'choice'.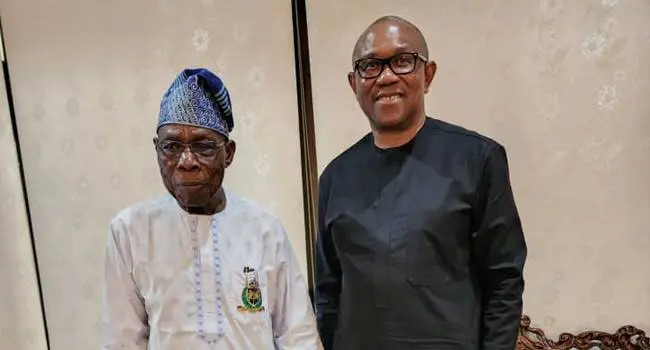 Obasanjo through an aide explained that he opted for Obi because he knows both of them; their capacity, antecedents, and other factors.
In his words, "Obasanjo opted for Obi because he knows both of them; their capacity, antecedents, and other factors.
Obi is not perfect just as no human being is, but a far better option.Also, his region has not done it (presidency) before a situation Baba believes is unfair.
People like him are speaking up because they know the consequence of one region doing more than two terms at a stretch.
There will be increased secession agitation. Obasanjo and others know what happened during the civil war and will not allow their sacrifice to go like that. That Baba supports Peter Obi is not about politics and hatred for anybody, it's about fairness, justice and equity."
Furthermore, he believes in North-South power rotation, suggesting that the support for PDP's Atiku Abubakar in 2019 would not have extended into two terms as Buhari was approaching the end of his first term.
According to Dailypost, the aide noted that Obasanjo is worried because if the South doesn't assume the nation's topmost seat on May 29, agitation for breakup may resume on a full-blown scale.
Baba supported the President in 2015 because the country needed strong leadership. When he saw that his choice did not live up to expectations, he withdrew support before 2019 when he openly backed Atiku.
"He was the most formidable at that time and the North still had eight years to complete. Buhari won that election and will complete his tenure soon. How will Baba support another Northerner again after 2015 and 2019, he said.